Inert
Gas
Inert gas fire suppression Systems utilize natural inert gases like Nitrogen, Argon, and/or mixture of the inert gases. Inert gas systems will extinguish fire by reducing the oxygen concentrations in the enclosure, and are suitable to be used for Class A, B and C Fire Hazards.
The Extinguishing Agents are stored in high pressure cylinders at 150 bar (2175Psi) 200 bar (2900 Psi) and 300 bar (4350 Psi) in sizes of 80 Lit and 140 Litters. The Discharge Pressure will be regulated by pressure reducer to a maximum outlet pressure of 60 bars (870 Psi).
IG-01 - 99.9% Argon
IG-100 - 99.9% Nitrogen
IG-55 - 50% Argon and 50% Nitrogen
IG-541 - 52% Nitrogen, 40% Argon and 8% Co2
Inert gases have no residue and by products when exposed to fire. Inert Gasses have 0 GWP (Global Warming Potential), 0 ODP (Ozone Depletion Potential) and are safe to be used in occupied areas as per NFPA 2001 Guide lines.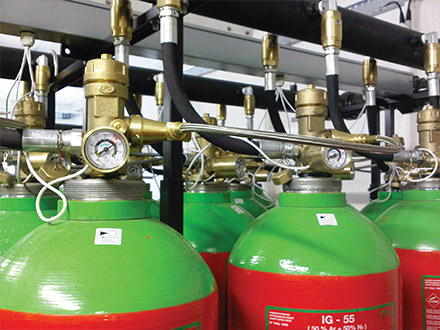 Copyright © 2021 Topaz Fire Systems | All Rights Reserved | Deisgn by Mars Web